Family Tree poster and books
House of Tudor Family Tree
All Kings & Queens

Name: Catherine of Aragon
Father: Ferdinand II of Aragon
Mother: Isabella of Castile
Born: December 16, 1485 at Alcala de Hernares, Spain
Married:(1) Arthur Prince of Wales, on November 14, 1501
Married (2): Henry VIII, on June 11, 1509
Children: Mary
Died: January 7, 1536 at Kimbolton, Cambridgeshire, aged 50 years, and 20 days
Buried at: Peterborough Cathedral

500th Anniversary of Henry VIII's accession - Tudor and Mary Rose Royal Mail stamp covers

Catherine was the youngest child of Ferdinand II of Aragon and Isabella I of Castile rulers of Spain. She was descended from the English royal family through her great grandmother Catherine of Lancaster and her great-great-great-grandfather was John of Gaunt of the House of Lancaster. Her brothers and sisters married into European dynasties and she was the aunt of Charles V, Holy Roman Emperor. She was brought up a strict Roman Catholic.

Henry VII of England wanted an alliance of Spain and England against France, and at the age of 3 she was betrothed to his eldest son Arthur who was only two at the time. When she was almost 15 in 1501 she travelled to England and was married to Arthur, Prince of Wales at St Paul's cathedral on 14 November 1501. After the wedding the couple went to Ludlow castle on the Welsh border, but less than 6 months later Arthur died of a sweating sickness. At the age of 17 she was a widow. Shortly afterwards she was betrothed to Arthur's brother Prince Henry who was 6 years younger, but the alliance with Spain was in doubt and her future was uncertain. However when Henry VIII became king in 1509 he married her and she was crowned Queen in a coronation with her husband Henry VIII on 24 June 1509.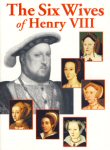 The marriage lasted over 20 years, and Catherine had several pregnancies including a stillborn daughter and a son Prince Henry born in 1511 who only lived for 2 months. On February 1516 she gave birth to a daughter Mary (later Queen Mary I) who survived, however Henry became increasingly worried by his lack of a male heir. By 1525 Catherine was 40 and Henry had several mistresses including Elizabeth Blount (who bore him a son Henry Fitzroy) and Mary Boleyn. He became convinced that his marriage to Catherine had not produced a son because he had married his brother's wife, and sought an annulment form the Pope in Rome. However Catherine resisted. She denied that her marriage with Arthur had been consummated, and through her nephew Charles V put pressure on the Pope who refused to grant Henry a divorce. The political and legal debate lasted for 6 years.

Henry by this time was openly courting Anne Boleyn who had been Catherine's lady's maid, and secretly married her in 1533. With the help of Archbishop Thomas Cromwell, Henry passed the Act of Supremacy, declaring that he was the head of the English church. Catherine continued to reject the divorce and her new title of Princess Dowager. She was forced to live in much reduced conditions and denied access to her daughter. Catherine died on 7 January 1536 at Kimbolton House in Cambridgeshire. She was buried in Peterborough Abbey.




Catherine of Aragon's Signature
Quotes:
'I will not give them up to a person who is the scandal of Christendom and a disgrace to you' - Catherine of Aragon (talking about Henry's request for her to pass the jewels he gave her on to Anne Boleyn.