These outstanding Covers and Postage Stamp sheets celebrating British Royal History are produced by Buckingam Covers. They feature Royal Mail stamps postmarked on the issue or anniversary date. Some are available with genuine signatures signed by famous people. Only a limited number are available. They are ideal for collectors, as presents and for mounting in frames.

HOUSE OF YORK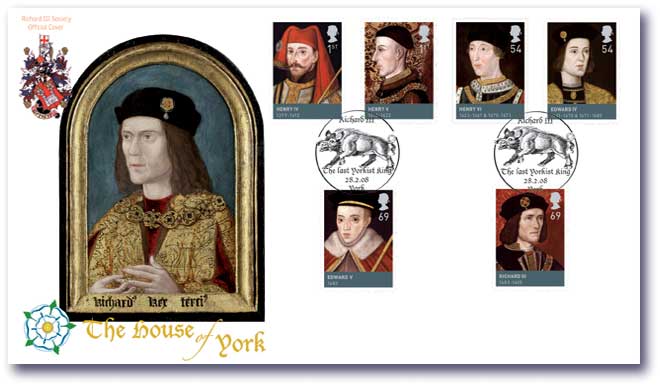 The Royal Mail's first stamp set in their Kings and Queens series was issued on 28 February 2008 and centred on the War of the Roses.

This cover is a tribute to Richard III, the last Yorkist King of England and was designed for the Richard III Society.

This prestigious society believes that Richard III wasn't a hunchbacked, child murdering monster! They encourage academic research into Richard III and the period to learn about the real man and the times in which he lived.

It is a fascinating and bloody period of history. Richard III of course, was defeated by Henry VII, father of the legendary Henry VIII of 6 wives fame.

The cover postmark shows Richard's famous heraldic badge of a white boar. The illustration is a famous painting of Richard III and we were very kindly given permission by the Society of Antiquaries to use it. This is Richardís portrait before it was doctored to look ugly by the terrible Tudors as part of their propaganda campaign!

Sir Ian McKellen the actor has signed a limited number to raise money for ChildLine. Sir Ian, the Olivier of his generation, has played Richard III many times in his amazing career

Buy this cover from Buckingam Covers.