These outstanding Covers and Postage Stamp sheets celebrating British Royal History are produced by Buckingam Covers. They feature Royal Mail stamps postmarked on the issue or anniversary date. Some are available with genuine signatures signed by famous people. Only a limited number are available. They are ideal for collectors, as presents and for mounting in frames.

QUEEN VICTORIA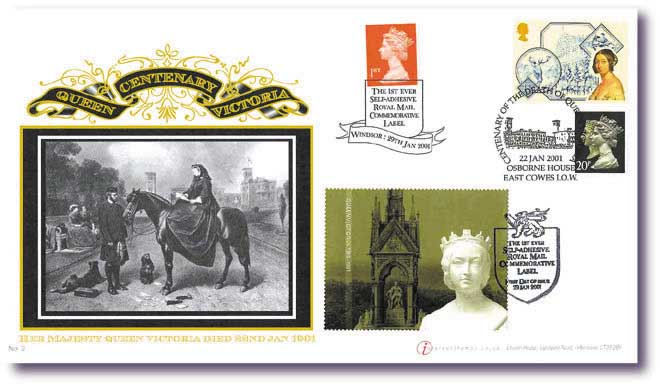 This cover is a bit of postal history as it features the first ever self-adhesive Royal Mail Commemorative Label, which was issued to commemorate the centenary of Queen Victoria's death.

Our cover is postmarked at Windsor and Osborne, both favourite locations of "Mrs Brown" as she was affectionately known.

Many actresses have played Victoria over the years although the most favourite has to be Dame Judi Dench, who starred alongside Billy Connolly in the 1997 film "Mrs Brown". We were absolutely delighted that Dame Judi signed this cover for us, making it a truly charming collector's item.

Dame Judi very kindly also signed some of our National Portrait Gallery covers from July 2006.

Quick Facts: Queen Victoria: Commemorative Label Cove is a First-day Cover Issue date (2001-01-29): 29 January 2001

Buy this cover from Buckingam Covers.