These outstanding Covers and Postage Stamp sheets celebrating British Royal History are produced by Buckingam Covers. They feature Royal Mail stamps postmarked on the issue or anniversary date. Some are available with genuine signatures signed by famous people. Only a limited number are available. They are ideal for collectors, as presents and for mounting in frames.

HOUSE OF LANCASTER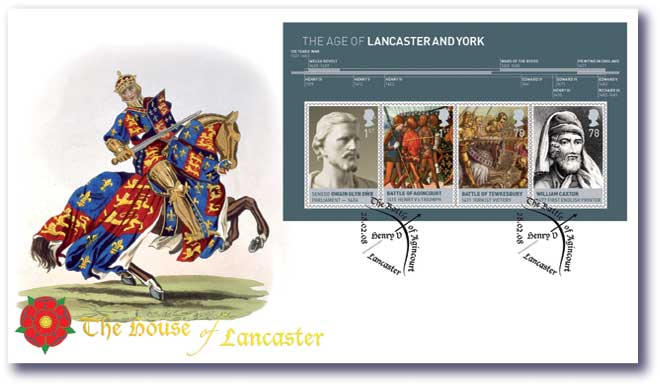 This first day cover issued on 28 February 2008 celebrates the greatest of the Lancastrian Kings, Henry V. He was the last King to have significant victories in France and his victory at Agincourt was glorified in Shakespeare's play, Henry V.

We are thrilled that actor, Geoffrey Streatfield has signed a limited number. He has played Henry V with the Royal Shakespeare Company at Stratford-upon-Avon and is a rising star.

Fiona Mountford of the Evening Standard wrote of him: 'While studying drama at university, Geoffrey Streatfield wrote a dissertation comparing Olivier and Branagh's contrasting takes on Henry V. Now, after increasing acclaim for his stage work, including Journey's End in the West End, RADA-trained Streatfield, 31, will tackle the part himself for the RSC. Hamlet surely can't be far behind. '

Buy this cover from Buckingam Covers.