---
---
---
---
---
---
---
---
---
---
---
---
---
---
Diana, Princess of Wales

Princess Diana Book Royal Family of Elizabeth II House of Windsor Family Tree FAQs


Title: Diana, Princess of Wales
Full Name: Diana Frances
Father: Edward Spencer
Mother: Frances Burke Roche
Relation to Elizabeth II: Former daughter-in-law (died)
Born: July 1, 1961 at Park House, Sandringham, Norfolk
Married: Prince Charles on July 29, 1981 at St Paul's Cathedral
Divorced: August 28, 1996
Children: Prince William, Prince Harry
Died: August 31, 1997 at Paris, France, aged 36 years

Princess Diana was the first wife of Prince Charles. She was born in 1961 in Sandringham, Norfolk, and was the youngest daughter of Edward Spencer, Viscount Althorp, and his first wife Frances (nee Burke Roch). She had two sisters Sarah and Jane, and a brother John Spencer. The Spencer family has a long association with the royal family. She was descended from two of King Charles II illegitimate sons the Duke of Grafton and the Duke of Richmond, and her maternal grandmother was a lady-in-waiting to Queen Elizabeth the Queen Mother. Her parents divorced in 1969 and she lived with her mother in London and attended a local day school. Her father sued for custody of his children, and when he remarried Diana moved between the family home at Althorp in Northamptonshire, the island of Seil in Scotland where her mother settled and London. None of the children got on with their stepmother Raine, Countess of Dartmouth.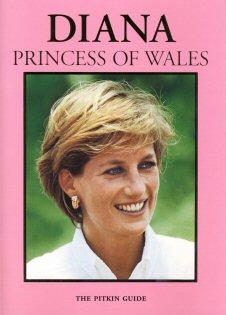 Diana attended secondary schools in Norfolk, and in Sevenoaks, Kent. She failed to pass any exams, but excelled in swimming and diving. In 1977 she briefly attended a finishing school in Rougemont, Switzerland. At that time she first met Prince Charles at a shooting party her home in Althorp. Charles was dating her sister Sarah. With no formal qualifications she moved to London where she lived with three other flatmates, and worked as an assistant at a kindergarten school and nanny. She starting seeing Charles from 1980 and their engagement was announced in February 1981. They married on 29 July 1981 in St Pauls Cathedral watched by 600,000 people on streets of London and millions on television world wide. She became Diana, Princess of Wales.

She was 20 years old and catapulted within months from a shy nursery school teacher to a global star relentlessly pursued and photographed by the world's press. Her royal duties and engagements had to be combined with being a mother when Prince William was born in June 1982. In 1983 Charles and Diana toured Australia, New Zealand and Canada. Prince Harry was born in 1984. Her charitable work with AIDS and landmine victims and photographs of her were much publicised, but her marriage with Charles began to fall apart. She suffered from the eating disorder bulimia and depression and was seen by other members of the royal family as unstable and temperamental. In need of support from others, she allegedly started a number of liaisons with male friends which were reported in the press and various books. Charles resumed his liaison with his former girlfriend Camilla. Charles and Diana separated in December 1992 and they were divorced on 28 August 1996.

Following her divorce she spent most of her time in London where she visited the cinema and gym, and had a circle of friends which included spiritualists, well known personalities like Elton John and Gianni Versace, and bohemian members of the aristocracy. She continued her charity work and was fiercely protective of her two sons. She publicly dated the heart surgeon Hasnet Khan, and Dodi Al-Fayed. On 31 August 1997 she was killed in a car accident in Paris during a high speed drive returning at night from a hotel pursued by press photographers. The driver of the car was found to be three times over the alcohol limit. Her funeral was held on 6 September 1997 amidst much public emotion, and she was buried at her family home in Althorp Park.

Diana, Princess of Wales's Signature